Concept
Luxury Pet Accessories
Frida Firenze rethinks the world of Pet Accessories as a complement of style of the owner: perfect for those who love to treat themselves and their four legged friends, thanks to refined materials, high quality craftsmanship and exclusive design.
Essential chic details, chosen to suit the personality of each dog and make a style statement. Precious, refined and oh-so-stylish, to admire and take shopping in the best boutiques, pair with the latest must have It Bag and ultra-elegant, hand crafted shoes.

"A refined product created as a stylish complement to the owner's look."
THE VOGUE MAN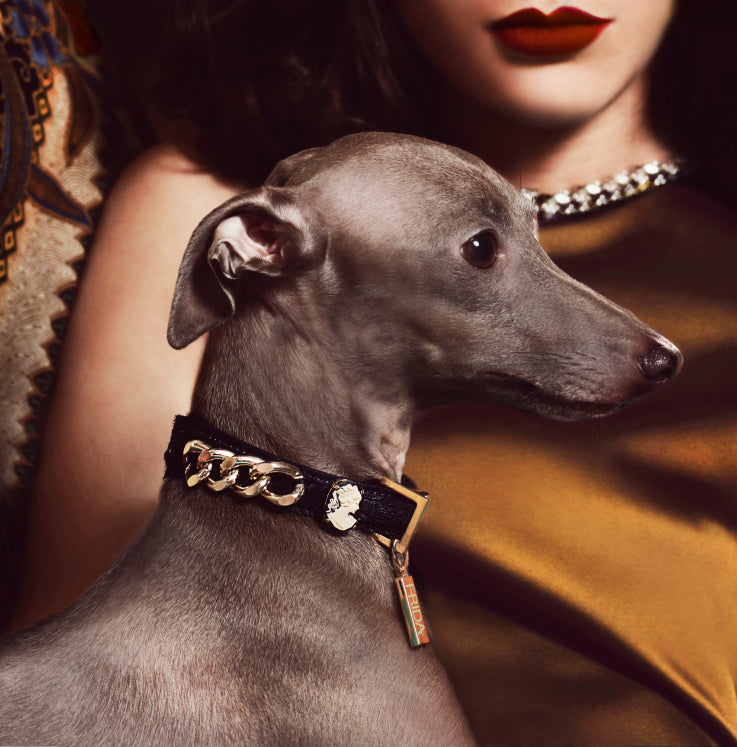 Lifestyle
"The Frida Firenze dog is always a leader, it loves luxury and being the center of attention. This privileged pooch loves its owner, accompanying them on shopping trips and to openings or events at the latest trendy hot spots before heading home to its stunning loft apartment.

Well travelled and vain, this "Diva Dog" who loves posing for the street style photographers outside the fashion shows is also totally at home at evening soirées in the city's most stunning living rooms. There are no limits, they are confident in all types of styles, mixing personality and pride with a touch of glamor thanks to weekly beauty appointments at their most trusted groomer."
Tommaso Bencistà Falorni
FOUNDER
Inspiring Muse
Frida Firenze's iconic logo pays homage to the legend of Frida, the Falorni family's small Italian greyhound who, in 1931, was bitten by a viper and transformed into a swallow. Frida is the inspiration behind Frida Firenze, a world of accessories for small to medium size dogs completely Made in Italy, transforming our four legged friends into true Pet Icons!